GEEN VERSTOPTE GOOTSTENEN OF BADKAMER GOTEN MEER!
Easy to use
This tool is very easy to use, it has a flexible and extendable gripper. By lightly squeezing the handle, it will bend in a curved area and reach the most difficult corners or crossings over long distances.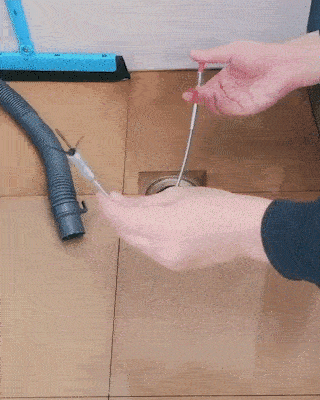 Clears your clogged drain
Let it Flow™ Drain Stick, improves the flow of sewage and easily cleans blocked bathtubs, sinks, shower drains and kitchen sinks.
Flexible
The flexible, winding steel cable with spring mechanism, the comfortable handle at the top, the strong steel spring and the retractable pliers at the bottom allow you to work in small and narrow spaces.


Lifetime duration
The surface of the pliers and the cable is made of durable stainless steel. The plastic handle is strong and easy to hold and press together during heavy work.


How to use:
Squeeze the red handle to unfold the pliers.
Hold the red handle and gently push the other end into the blocked sink / drain / pipe, stopping when it touches the plug.
Pull back slightly and squeeze the end of the handle again to open the pliers. Release the handle to catch the dirt.
Pull out slowly.
Squeeze the handle to throw the debris into the bin.
Repeat the steps until there are no more obstacles.