🤝SATISFACTION GUARANTEE

We want you to be 100% satisfied with the products you buy from us. If for ANY reason you are not satisfied with your purchases, We offer an iron-clad, money-back guarantee.


Travel high above our planet for a glimpse of Earth's natural beauty as seen from outer space, captured through NASA satellite imagery - our most popular design, Earth with the Levitating Globe.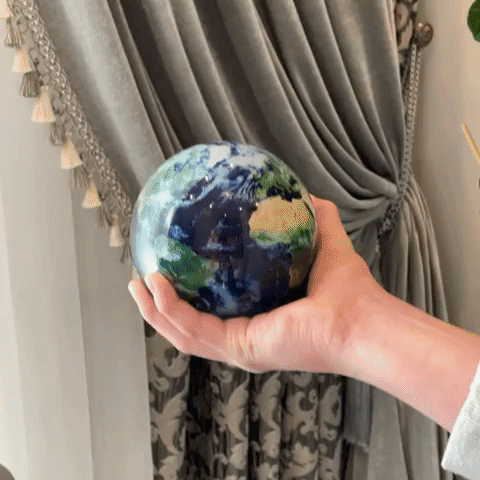 EARTH WITH CLOUDS GLOBE
The Earth globe uses Images from NASA
Turns using ambient light
Hidden magnets provide movement
No cords or batteries
Each globe has a transparent outer shell made from carefully selected, high-quality acrylic. This external layer remains stationary while an internal one spins using advanced magnets for torque and solar cells to power the movement.


Q: How long does Mova globe last?
A: Under ideal conditions, the theoretical life of the drive components of Mova globe core is more than 20 years.
Q: Why sometimes Mova globe doesn't turn at night?
A: In order to achieve a beautiful effect, the Mova photosensitive component is placed inside the pattern, so the light received by the photosensitive component is much lower than the external environment. Mova globe may stop rotating when the light is poor at night. At this point, just reposition the Mova globe in a well lit environment to restore rotation.

Q: Why doesn't Mova globe turn during the day?
A: The rotation of Mova globe is the result of the dual influence of light energy drive and earth's magnetic field. Because the internal driving device is very sensitive to the change of environment, Mova globe may stop rotating when the external light or magnetic field changes greatly. At this time, just readjust the placement of Mova globe to avoid the interference of surrounding objects with magnetic field such as display and speaker, and Mova globe can resume rotation.
Q: Will Mova be damaged during transportation?
A: Mova globe adopts a full set of customized packaging, and selects retention as the only express partner, which can fully ensure the safety of products during transportation